Announcements : Alert Traveler App
Announcement: Alert Traveler App
All students, faculty and staff are asked to download and activate the Alert Traveler App for MU-related travel abroad. The free app sends safety alerts to your phone according to your GPS location and itinerary for your program (within this system).
The Alert Traveler App is a useful safety tool for anyone going out of the country. The free app sends safety alerts to your phone according to your GPS location as well as alerts based on your itinerary through Terra Dotta (our online application database).
This app will not be available for download until 90 days prior to departure (per your established program dates).
THE OIE STRONGLY ENCOURAGES ALL EDUCATION ABROAD PARTICIPANTS TO DOWNLOAD THIS APP FOR THEIR TIME ABROAD.
Alert Traveler Installation Instructions
(please follow instructions, don't just download):
Wait until at least 90 days prior to your departure, as listed for your program at studyabroad.marquette.edu.
Go to your play store and search for "alerttraveler" then download it. Do not log in.
Open a browser on your phone and go to studyabroad.marquette.edu. Log in using your regular MU ID and password, but do not click into your application (do not click on your program name, which will show up after you log in and be hyperlinked to your application).
Scroll to the bottom of your applicant home page, where you see the Alert Traveler logo.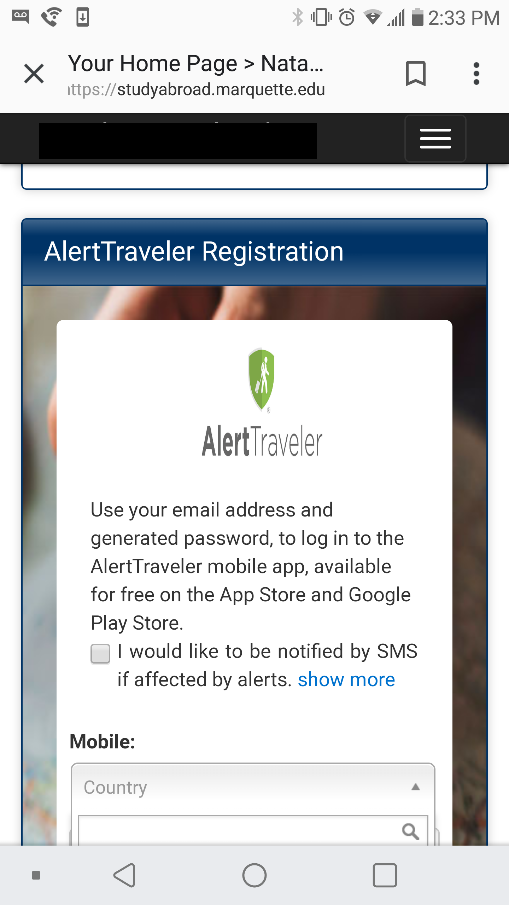 Check the box, enter your phone number and then enter your email address. DO NOT ENTER YOUR PASSWORD.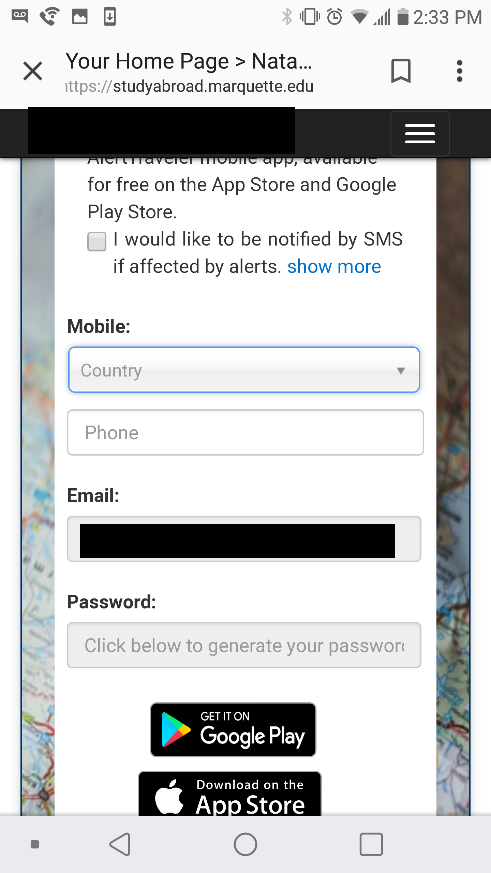 Click the "GENERATE" button below the login area. This will generate a password in the password section of the login.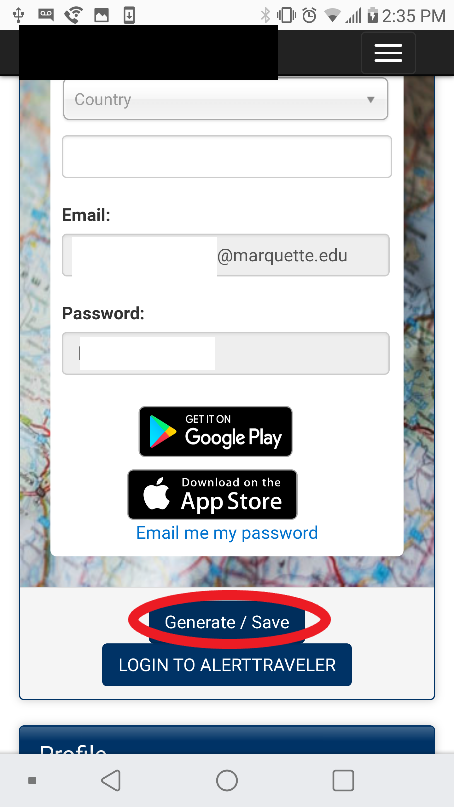 Click the login button, under the GENERATE button.
This should open the Alert Traveler app on your phone.
It will ask if you want it to track motion and fitness – this is up to you.
It will ask if you want to allow SMS notifications – answer "YES"
Since you're currently in the USA, you will see the USA as your current location. However, your country of study will also show up in the subscriptions area.
When you register side trips through the online system, it will automatically add those countries to your subscriptions list for the dates you will be there.
Choose notification.
A video demonstrating these steps can be found at
https://supportvideosterradotta.hubs.vidyard.com/watch/Xf8Yt7ZkTPzUHgELT1NEBi
If you encounter any problems, please email
studyabroad@marquette.edu
to let us know.